The Daughters
a novel
Winner of the 2015 PEN Southwest Book Award
In this virtuosic debut, a world-class soprano seeks to reclaim her voice from the curse that winds through her family tree.
Since the difficult birth of her daughter, which collided tragically with the death of her beloved grandmother, renowned opera sensation Lulu can't bring herself to sing a note. Haunted by a curse that traces back through the women in her family, she fears that the loss of her remarkable talent and the birth of her daughter are somehow inexplicably connected. As Lulu tentatively embraces motherhood she sifts through the stories she's inherited, about her elusive, jazz-singer mother and the nearly-mythic matriarch, her great-grandmother Greta. Each tale is steeped in the family's folkloric Polish tradition and haunted by the rusalka — a spirit that inspired Dvořák's classic opera.
Merging elements from Bel Canto and Amy and Isabelle, The Daughters reveals through four generations the sensuous but precise physicality of both music and motherhood, and — most mysterious and seductive of all — the resonant ancestral lore that binds each mother to the one that came before.
W.W. Norton / Liveright, 2015.
Read an except at Electric Literature's Recommended Reading.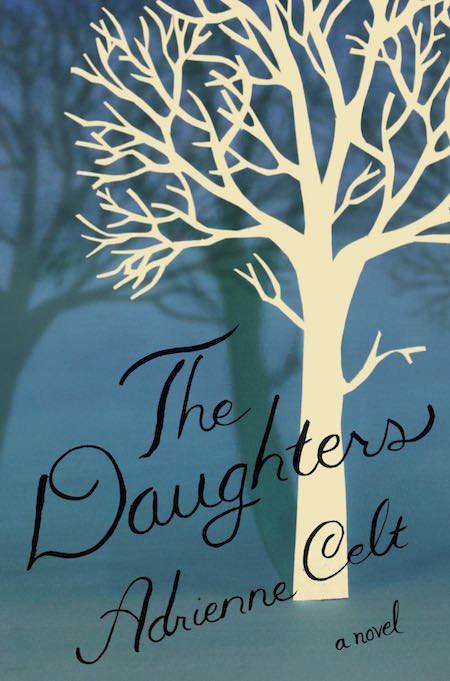 Praise
Winner of the 2015 PEN Southwest Book Award
Shortlisted for the 2016 Crawford Award
Selected as a Best Book of the Year by NPR and the New York City Public Library
Drawing inspiration from the myth of the rusalka and spanning four generations, from Poznán to Chicago to the stages of Paris, Arizona, and Ulaanbaatar, Celt's family saga — steeped in folklore and vibrating with music — is as much about the power of storytelling as the fraught relationships between mothers and daughters… . A haunting novel with real emotional depth, Celt's psychologically nuanced debut continues to resonate long after the last page has been turned.
After the birth of her daughter, opera sensation Lulu fears a family curse has made her lose her voice, in Celt's lyrical debut novel about the perplexing riddle of inheritance.
Celt's debut is a carefully crafted and mesmerizing look at one family's history… . A beautifully written exploration of the myths and the realities that bind families together that will leave readers eagerly awaiting Celt's next novel.
Short story and comics creator Celt interweaves themes of music, motherhood, and myth in her lyrical debut novel … . The novel's luminous prose, subtle structure, and rich contrast between present-day Chicago and Old World folklore help craft a resonant meditation on the way our stories at once shape and sabotage our lives.
Filled with lyricism and imagery, this stunning debut novel … is sure to delight fans of magical realism.
A lyrical and poetic debut about the strength of storytelling and mother-daughter love.
Music and motherhood — that's what you'll find at the core of The Daughters, yet each element is so original, you'll swear you've never read about either before. This debut by Adrienne Celt reads like a warm, cherished folksong. Celt's voice, kind of like the opera sensation about whom she writes, is strong and unusual, and the story she tells is affecting.
A lush song of a book that understands the intertwined beauty and fear of motherhood and daughterhood, and the music a good story makes.
Gorgeous. The Daughters is lush and dreamy and strange, and it will make you feel like a beautiful witch has put you under a sinister spell.
In this novel, voice and music and history and storytelling and mythmaking and motherhood and protection of the self are in many ways the same: Living animals, changeable and complex, adaptive and perilous and endlessly powerful … . Here is one you should not miss, a gratifying feast in lush, lyrical, and full-throated form.
Celt … aims for one of life's most difficult questions: should we be held accountable for being alive?
Adrienne Celt's lushly imagined debut novel The Daughters … explores the themes of music, motherhood, and the unshakeable power of family lore in tandem … . Like the mythical rusalka themselves, The Daughters is packed with dangerous beauty; it's an enchanting but powerful read.
I was lucky enough to have a baby of my own in the middle of reading Celt's book, and I can't imagine a more gracefully incisive piece of art to shepherd me through such uncertain trials on my way toward finding deep joy. With prose as star-lit and heart-bending as the story itself, The Daughters demands to be read by every sister, mother, daughter, and friend.
[D]azzling … . Bouncing back and forth between past and present, The Daughters is a gorgeous, riveting story about family, mythology, and curses. Its dark, dizzying magic practically sings off the page.
A story libretto that commands attention from the opening scene. Celt has crafted a modern fairy tale that had me up from my chair in standing ovation.
Brimming with sad, delicious folklore and echoing with the voices of five generations of mothers and daughters in a family shaped by music as much as by tragedy, Celt's debut is enchanting.
Adrienne Celt's stunning debut novel, like its narrator, sings. There is so much to applaud in The Daughters — its love song to the world of opera, its masterful retelling of ancient Polish fables, and, above all, its examination of the complexity of modern love, in all its varieties. Love between mother and daughter, between husband and wife, among lovers, and the intimate love an artist feels for her art. Readers will be enchanted by this astonishing novel that shifts seamlessly between past and present — from a soprano's precociously musical childhood to her experience as a new mother who, recovering from the trauma of birth and loss of her beloved grandmother, has lost her most cherished gift, her voice.
[A] dazzling debut… . The Daughters is about motherhood and daughterhood, of course, but also relationships and fidelity and music and ambition and talent and compromise and scary-ass Polish folktale witchery.