Invitation to a Bonfire
a novel
The seductive story of a dangerous love triangle, inspired by the infamous Nabokov marriage, with a spellbinding psychological thriller at its core.
In the 1920s, Zoya Andropova, a young refugee from the Soviet Union, finds herself in the alien landscape of an elite all-girls New Jersey boarding school. Having lost her family, her home, and her sense of purpose, Zoya struggles to belong, a task made more difficult by the malice her peers heap on scholarship students and her new country's paranoia about Russian spies. When she meets the visiting writer and fellow Russian émigré Leo Orlov — whose books Zoya has privately obsessed over for years — her luck seems to have taken a turn for the better. But she soon discovers that Leo is not the solution to her loneliness: he's committed to his art and bound by the sinister orchestrations of his brilliant wife, Vera.
As the reader unravels the mystery of Zoya, Lev, and Vera's fate, Zoya is faced with mounting pressure to figure out who she is and what kind of life she wants to build. Grappling with class distinctions, national allegiance, and ethical fidelity — not to mention the powerful magnetism of sex — Invitation to a Bonfire investigates how one's identity is formed, irrevocably, through a series of momentary decisions, including how to survive, who to love, and whether to pay the complicated price of happiness.
Bloomsbury (US), June 5, 2018.
Raven Books (UK), July 12, 2018.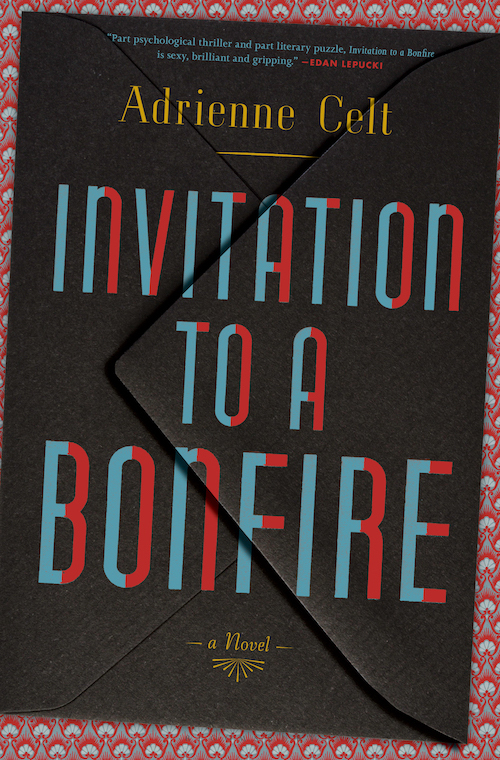 Praise
One of Elle's 32 Best Books of Summer * A Hottest Book of Summer in Parade Magazine * "Most anticipated" by The Millions, The Rumpus, and Book Riot.
Trembling with atmosphere … An ominous snowball of a novel … with a slow-burning first half and a second half that hurtles toward inevitable catastrophe. Rich and moody.
[This novel has] all the delicious tension of a psychological thriller, the mysteries dissected in prose as sharp and precise as a scalpel … The result is a novel that packs all the punch of the very best noir—only with more depth. Highly recommended.
At once a taut psychological thriller and a sensitive character study; fans of each should rejoice.
The way Adrienne Celt so completely inhabits the voices and lives of her characters is an amazing thing to behold. A dazzling stylist and a powerful writer, she has given us a rich, tapestried story of love, loneliness, and betrayal.
Part psychological thriller and part literary puzzle, Invitation to a Bonfire is a sexy, brilliant, and gripping novel about the fine line between passion and obsession. I am in awe of Celt's mastery as a prose stylist and storyteller; I can't stop thinking about this amazing book.
This is an incendiary and provocative novel about obsession.
Adrienne Celt harnesses the tension of a tango and weaves it with revolution, sexual awakening, creative warfare, and the power dynamics of marriage, resulting in a dangerously seductive and viciously smart read. Celt proves herself a master of form, effortlessly moving from the punch of noir to the sumptuousness of Nabokov. She is a writer to envy.
Engrossing, endearing, phenomenal — this book will set you on fire. In this brilliant novel, Adrienne Celt's lush prose and mousetrap plot deliver a wild wonder.
Sensual and wickedly clever, Celt's Invitation to a Bonfire plays with our hearts and our expectations as we follow the lives of three unforgettable characters who love and obsess in turn.
Celt's writing is dangerous and fine, an impersonation of Nabokov's style so acute it caused my teeth to itch and an obscure ringing in my bones. An exploration of fraud in both the literary and criminal sense, this is a modern reimagining of the relationship between Vera and Nabokov that delights as much as it distresses.